How to Protect your Teeth with a Mouthguard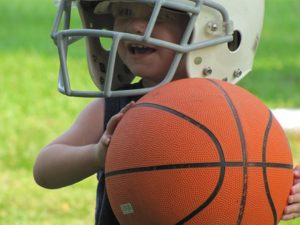 All over the nation children, teenagers, and adults are warming up for spring activities.  Some take to the golf course while others take to the courts.  Some warm up their pitching arm while others line up at the starting line.  Whatever exercise makes you happy, we applaud your dedication and effort.  Our Orange dentist and staff are ready for our outdoor activities and spring sports as well, and that includes wearing mouthguards.
Mouthguards are for more than just football
We don't think twice about a football player or basketball player wearing a mouthguard.  As a required part of the football uniform it has become the norm.  The televised celebrity basketball stars have also made mouthguards commonplace.  Yet, very few people realize that a mouthguard is beneficial in any type of activity.
Exertion during activities tends to cause people to clench their teeth tightly.  In non-impact sports, this may only start affecting the athlete with headaches and aching jaws.  However, in more fast moving sports like soccer and lacrosse, this clench of concentration means you're much more likely to suffer a greater injury if you are hit.
Even low-impact sports can lead to enamel erosion and TMJ disorders and the need for our Cosmetic Dentistry services.  Talk to our Orange dentist to determine the best way to protect your mouth this spring.  We can suggest a variety of options based on your needs.
What style of mouthguard will I need?
Sporting goods stores carry boil and bite mouthguards that are perfect for low-impact sports as well as for children.  These are easy to mold to teeth in the comfort of your home.  Their low cost makes it easy to toss at the end of each season since your child's teeth are still coming in and moving.  Even adults who experience a tightness in their jaw during low-impact sports benefit from the extra cushion these mouthguards add.
Professionally created mouthguards are another option.  They are custom-fit in our Orange dentist office.  This method ensures a proper fit and gives your mouth the greatest protection.  These mouthguards can be constructed to meet your needs.
How do I clean my mouthguard?
The best way to clean mouthguards is with some cold water and a gentle toothbrush.  Hot water will ruin the mold of the boil and bite and can change the structure of a custom made mouthguard.  A quick dip in an anti-bacterial mouthwash will remove germs; just don't leave it in the solution for too long.  Follow the instructions that come with your mouthguard for the best results or talk with our team for more information.
Our goal is to keep your smile looking great and to protect your beautiful teeth.  With the right mouthguard, you are protecting your investment and oral health all at the same time.  For more ways to care for your teeth, visit our Facebook page or schedule your dental exam.  We wish you a happy spring and a great start to your season!