Oral Hygiene Tips for Camping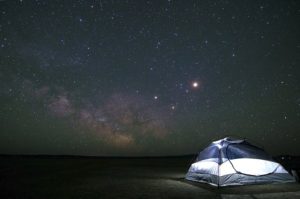 The long days of the season and amazing temperatures means it's a perfect opportunity for camping.  Starlit evenings gathered around a campfire and quiet morning waters ideal for fishing are what most campers look forward to.  As an Orange dentist concerned about your oral health, we know that a couple days or a few weeks of camping can lead to oral health neglect.  So, here are some hygiene tips that will keep you in good health this year while exploring the wilderness.
Tips for Oral Hygiene Tips and the Outdoors
Leave no trace.  Remember when camping that you are a guest of Mother Nature's. Clean up after yourself and fellow campers making sure to not leave a trace of your trip behind.  This holds true for any type of waste or garbage.  Think through your daily actions and take a few minutes to learn how to best protect the environment.
Pack a travel-sized toothbrush or purchase an inexpensive cover for your toothbrush. The best way to store a toothbrush is to dry it upright making sure the bristles don't touch anything. When camping, follow the same protocol.  Shake off any excess water and let it dry as much as possible.  This way, your toothbrush will be clean and free of any bacteria and germs.  Pick up a brush at your local pharmacy or at your next dental exam with our Orange dentist and hygienist.
Don't forget to floss.  A small container of floss takes up a small amount of space and weighs next to nothing if you are backpacking and trying to lighten your load.  Floss can also come in handy as an option for string.  If a little container is still too much for your pack, simply cut what you need each day before your trip and store in a small baggie.
Additional hygiene tips
Always have access to clean water throughout the day.  Use it for washing laundry or for a quick bath.  Erasing the grime and grit is a great relief after being in the outdoors.  Save a bit of the clean water for brushing your teeth, as well.  Just make sure you don't compromise the environment.  The rule of thumb for the 'leave no trace' theory is to stay roughly 70 paces away from any natural water source. Don't bath in the water directly; use a container or pot to carry fresh water or even a portable cooler with wheels.
Visit your Orange dentist and doctor before your trip to ensure good health and so your trip gets off to a great start.  No one wants to cut their trip short in order to have a cavity filled.  Pack and clearly label all medications you need and make sure you carry a bit extra with you in case of emergencies.  Be smart and above all else have fun when you go camping.  Be prepared with a first aid kit and have some sort of a foul weather plan in order as a backup.  Visit our Facebook page for oral health advice and have a fantastic summer.